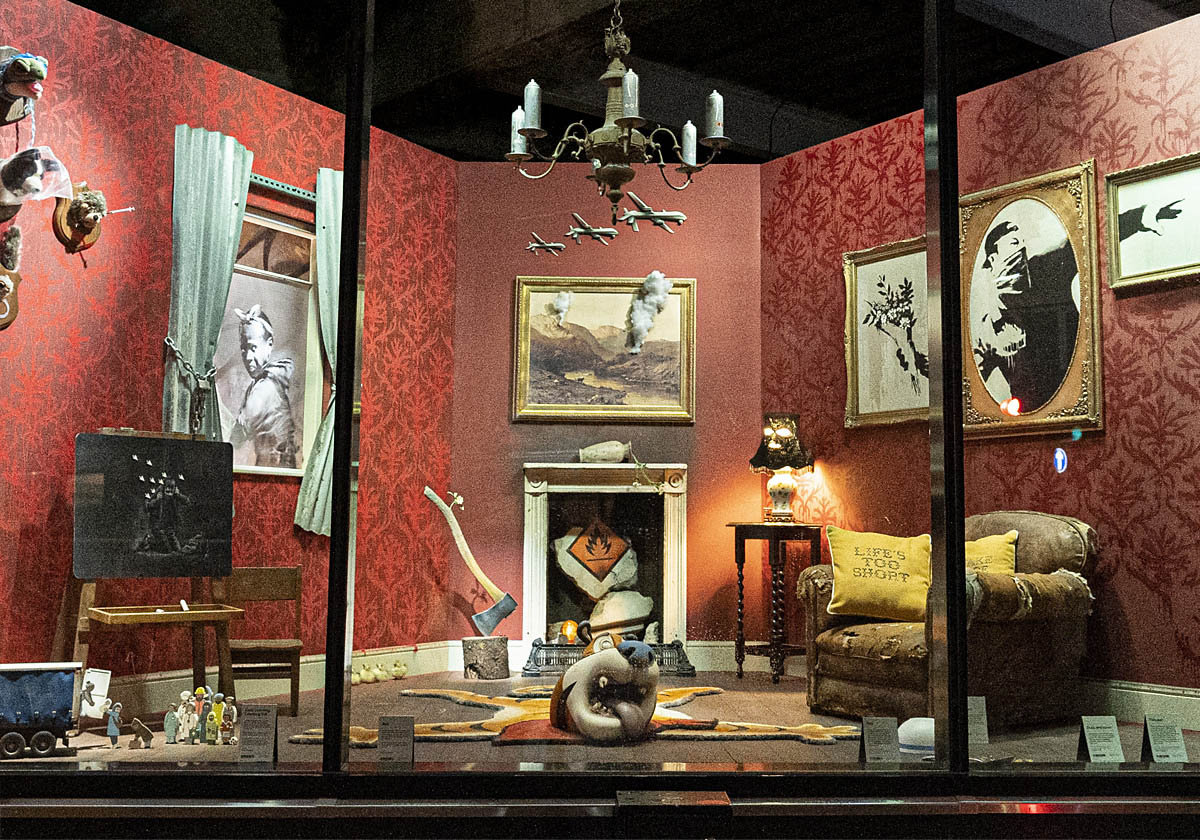 These days, the phrase "Banksy exhibitions" sounds a bit confusing and misleading, as the last official artist's exhibit was "Gross Domestic Product" in Croydon, England, in 2019. But what about all those shows popping all across the world from time to time? Well, Banksy simply called them all "fake" on his official website since they were organized without his knowledge or involvement. By the way, the famous exhibition at the Moco Museum in Amsterdam is one of them. After some time, people just started dividing all the events into official and unofficial, with the last obviously being the most prevalent type out of the two. How many of those Banksy street art exhibitions are official, and what can be done with "unofficial" ones?
Official and unofficial Banksy exhibitions: how are they different?
First and foremost, let's highlight the difference between exhibitions and pranks. Banksy is infamous for his public jokes and tricks, and his latest "A Great British Spraycation" series is a good example. At the same time, those cannot be considered Banksy street art exhibitions, which usually require a gallery venue and curators to lead the organizational process.
Throughout his whole career, Banksy has had around 25 official shows, with most of them organized in Bristol, London, Los Angeles, and Palestine. You might have heard about "The Venice Biennale," "Bristol Museum vs. Banksy," "Dismaland," "The Walled Off Hotel," and "Love Is In The Bin" at Sotheby's London. There is a range of other events that you can find on the internet, but they are not as popular as the previously listed ones.
Speaking of unofficial street art exhibitions, there are myriad of them, and you won't find them all even online. The curious thing is that there are unauthorized shows of two types: some of them showcase original prints brought to the galleries by collectors and owners. The same goes for auction houses that sell limited edition prints. Other exhibits simply create replicas of the mural painter's artworks and present them in the venue because it is a timely investment in popularity.
Where can you find original Banksy street art today?
So is the situation in the street art market. If you want to become part of something Banksy organized officially, follow the Banksy official Instagram page and be aware of the news. And in case you yearn to see original artworks in permanent collections, consider visiting Tate Britain, Paris' Louvre, and New York's Brooklyn and Metropolitan Museums.