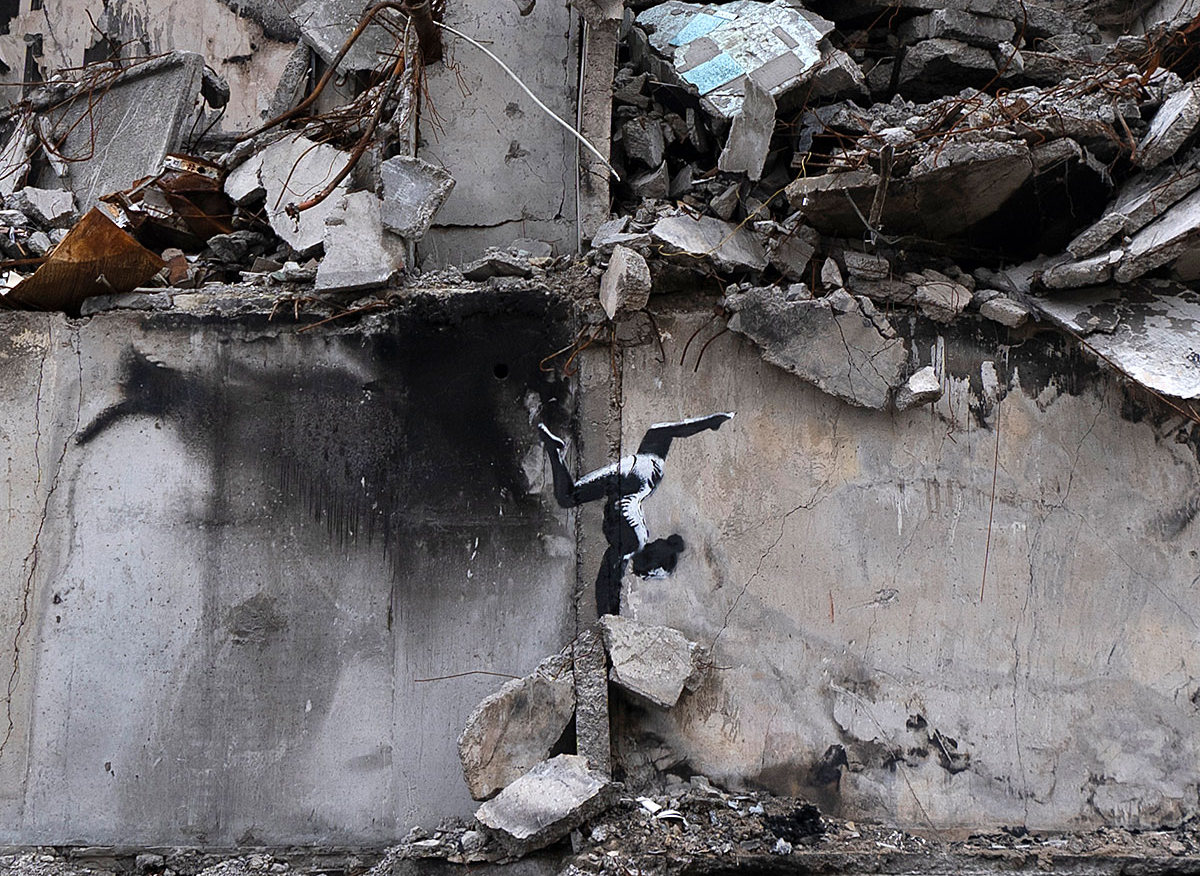 After the 15-month pause, Banksy has finally broken the silence after revealing new murals in Ukraine. The street artist has struck again with anti-war artworks in the heavily damaged city of Borodianka, the Kyiv oblast, and other cities of the region, including Kyiv itself. As of today, the anonymous mural painter has officially confirmed seven pieces, with every one of them shown to the public on Banksy Instagram and official website. Here is what we know about the latest showcase.
Where did Banksy paint new murals?
The most famous artwork depicts a female gymnast balancing on a pile of rubber from a building almost completely destroyed by Russian strikes. You can find it in Borodianka, which is 30 km from Kyiv. In this same city, one can encounter another graffiti of a boy wearing keikogi and performing a shoulder throw of a grown man, which is a direct allusion to Vladimir Putin, an infamous judoist-president of Russia.
In the village of Horenka, which is in the Bucha district, you can find a man holding a bath brush in a bathtub. Another ruined city, Iprin, also features new murals. There is a painting of one more gymnast, but this time with a ribbon. As usual, it is depicted on the wall of a shelled building, which creates a rather charged atmosphere. In Hostomel, where the battle of Antonov Airport took place on the first days of the war, one more work can be found: a woman with a gas mask and a fire extinguisher stands against the background of total destruction.
Finally, you can find two more new murals in Kyiv. One became famous before it was confirmed by the British street artist – a girl and a boy playing with a seesaw, with the latter being a Czech hedgehog. The other one is slightly provocative. Banksy painted something reminding SA-10 Grumble, a surface-to-air missile system, with a penis instead of rockets. The vehicle is marked with the letter Z, which is a military symbol of the Russian Armed Forces.
Banksy is back
The sheer happiness of Banksy's fans and the gratitude many Ukrainian users expressed on his Instagram page indicated that his new murals are, as always, well timed. The year 2022 is full of shocking events, and there is no foreseeable outcome of the global conundrum. It means that his art, message, and attention are as needed as never before.