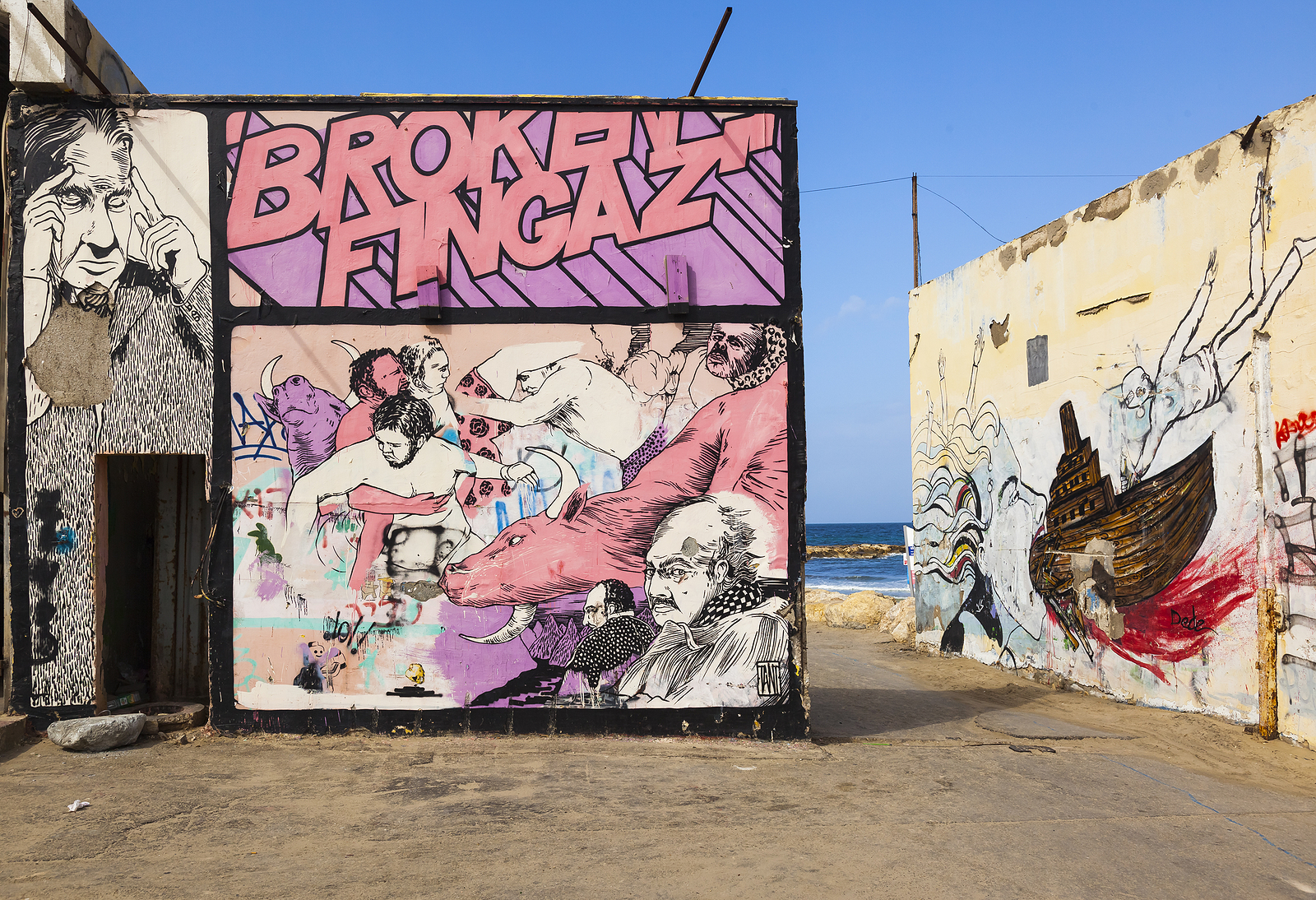 Israel has long been famous for its graffiti art. On the streets of Tel Aviv and Haifa, the major cultural cities of Israel, you can meet amazing street artists.
Graffiti in Israel tells a lot about the artists and the country. The graffiti journey will show some aspects of Israel's current political situation and expand your understanding of Israeli culture. As you study street and graffiti art in Israel's cities, you'll discover works about politics, religious issues, feminism, optimism, and more.
Language of graffiti art
You can find graffiti in Hebrew, Arabic, English, and Russian in Israel. Recently, an increasing number of Israeli street artists are receiving attention and recognition in the world.
Dede Bandaid
In Tel Aviv, you will find numerous images of plaster – these are the works by Dede. Dede lives in Tel Aviv, but his real name is known only to the closest – he, like Banksy, has been completely anonymous for many years. You will not find a single photo of his face on the network. Dede took up street art after his military service. It was then that the image of the plaster appeared. The artist says he was "looking for a way to express and heal his wounds." The patch has become a symbol of all kinds of hardships – personal and social – and a means of protection."
Nitzan Mintz
Nitzan Mintz paints her poems in large letters on walls, gates, pillars, and other city surfaces. Nitzan calls himself a visual poet. She writes her poems in public spaces using a special font and stencils. In her graffiti art, the artist pays special attention to the connections between the meaning of the poem, the shape and color of the letters, and urban legends. At 20, Nitzan became one of the first women in the predominantly male world of Israeli street art.
KLONE YOURSELF (Igor Revelis)
Igor Revelis works under the pseudonym KLONE YOURSELF, or KLONE. He was born in 1983 in Kharkiv, Ukraine, and moved to Israel at the age of 11. Graffiti was a way for him to master "foreign territory" and win back his place in the surrounding urban jungle. In his early works, KLONE often used inscriptions in Russian to connect the two cultures. Important themes of his work are communication, language, intercultural interaction, and the search for one's home. KLONE is a self-taught artist. His characters are strange animals (cats, foxes, birds, etc.) or hybrids that combine animal and human traits. In Igor's street work, you can often see rows of identical animals. Today, KLONE murals can be seen on the streets of Tel Aviv, Jerusalem, Haifa, New York, Montreal, Berlin, Prague, Kyiv, Nizhny Novgorod, and other cities of the world. The artist continues to explore the concept of "home" in depth and develop images he has invented, while the style of his work is constantly changing.
BROKEN FINGAZ CREW
BROKEN FINGAZ CREW is an interdisciplinary street art collective from Haifa, which has gained international fame and respect far beyond the borders of Israel.
They developed a unique visual style combining elements of pop art, colorful comic book language, skateboard graphics, and tattoo sketches. BROKEN FINGAZ murals stand out for their large size and bright colors. Their graffiti art touches on various topics: pop culture, sexuality, history, spirituality, and the inevitability of death.