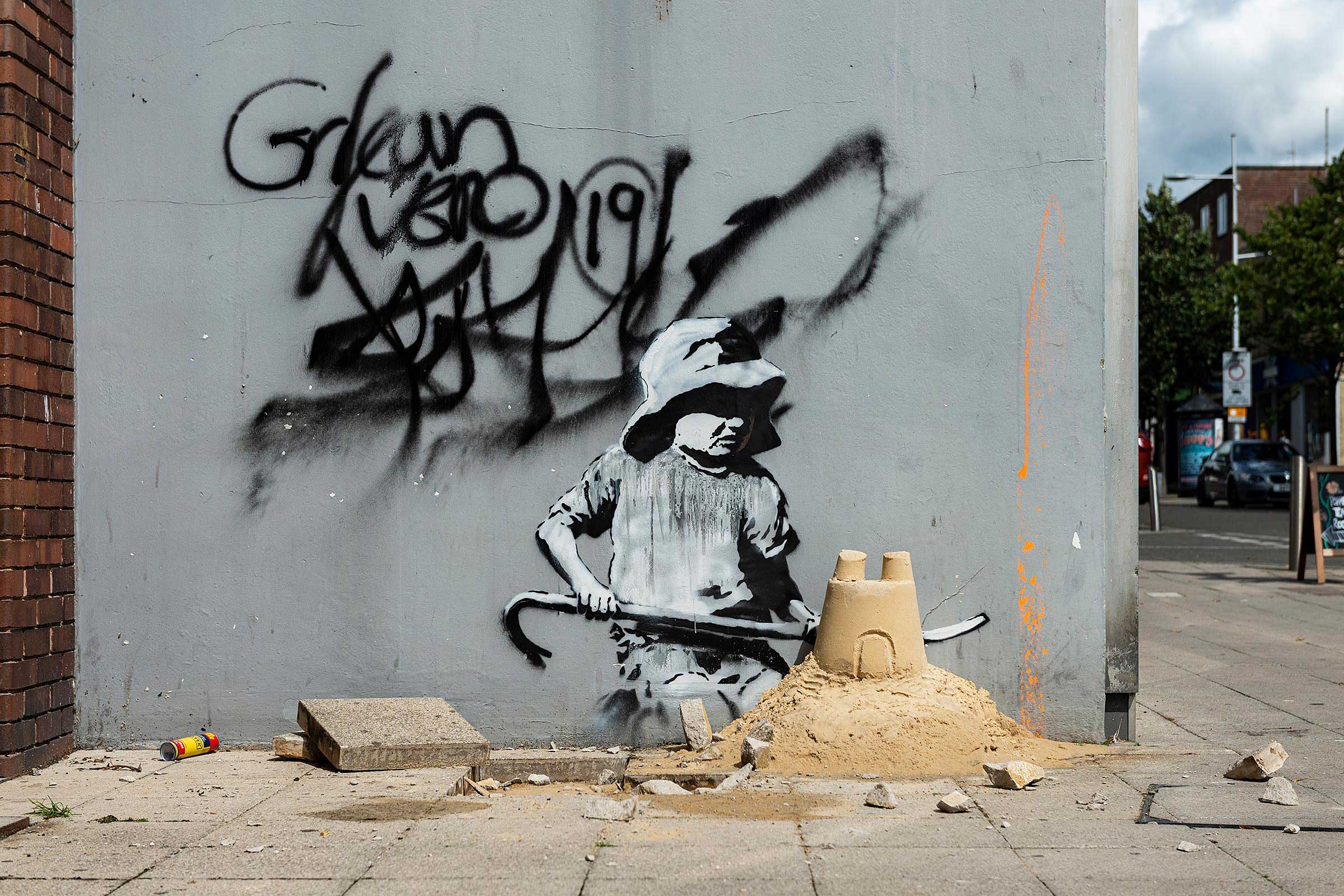 Is vandalizing street art an act of vandalism or well-deserved justice? Recently, on January 16, it became known that a landlord couple, Gary and Nadine Schwartz, from Lowestoft, Suffolk, tore the latest Banksy mural off the wall of an old electrical shop they owned and sold it privately for approximately £2 million (roughly $2,715,000). The actions of the couple sparked disappointment and anger and left many locals frustrated. The deputy of the town mayor labeled it a "shame" since the Banksy artwork attracted many visitors to the area.
Latest Banksy mural in Suffolk was sold after being torn off the wall
A mural of a "crowbar girl" playing with sand is one of ten famous murals that Banksy painted in Norfolk and Suffolk, England, in August 2021. Titled "A Great Britain Spraycation," the art project got famous overnight. Some of the works had to be protected right after they became viral. Unfortunately, "Crowbar Girl" wasn't one of them. The couple was rumored to ship the latest Banksy mural to the Julien's Auctions in California, US. It was later revealed that the piece never left the borders of the country.
For some people, the vandalism of street art might sound like an oxymoron, but times are changing. Nowadays, contemporary street artists are rarer viewed as villains and vandals. The negative reaction of the society regarding the occasion was a powerful demonstration of the changes in the hearts and minds of local authorities and ordinary people. Ironically, tearing the latest Banksy mural was partly the result of the forces often criticized by Banksy — greed and selfishness. The chances are that the work of art was sold to a private collector, so there is little hope that the piece will come out in the near future. As for the Schwartz couple itself, it declined to give any comments.