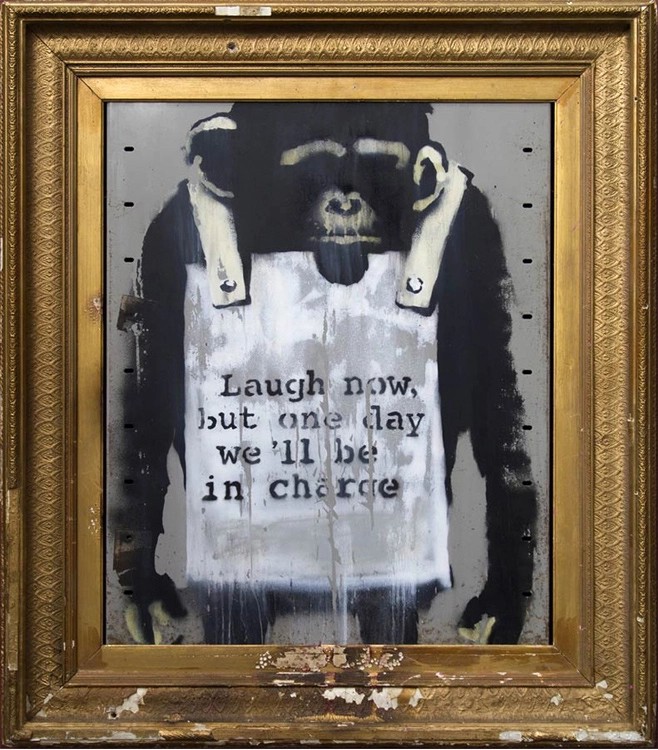 If you pay attention to the development of contemporary street art, you probably know that today's situation has never been better. Little by little, "vandalism" is transforming into a full-fledged form of art. Throughout the last several years, many talented people have joined the streets to express their opinions with the help of stencils. It is hard to argue that Banksy is a beacon for many beginning painters. Not only is he known for some controversial artworks, but he is also a big popularizer of what he is doing. To prove it, let's look at the evolution of Banksy art in 2020 – 2021. You will be surprised to hear how much has already been done.
The evolution of Banksy art in 2020 – 2021
The last two years were the years of prosperity for the world-famous mural painter. Banksy managed to set new records and beat them within a short period of time. "Game Changer" (£16.8 m), "Love Is in the Air" (£9.2 m), "Sale Ends Today" (£4.3 m), and "Laugh now" (£2.4 m) were all sold between 2020 – 2021. The peak of evolution is considered "Love Is in the Bin," which was sold for £18,582,000 on October 14, 2021. It is officially the most expensive Banksy artwork as of today.
Price is not the only sign of evolution. Banksy art in 2020 – 2021 is overly political and urges people to take real actions. Take, for example, the recent Banksy t-shirts sale in Bristol. Lots of people bought them and shared the news about the "Colston 4" throughout the world. His art is also a show of support. You must have heard of "Game Changer," a coronavirus-inspired artwork that appeared at the University Hospital Southampton. It was the artist's way to demonstrate how thankful he is to healthcare workers. There are many more such stories, but the conclusion is the following.
The evolution of Banksy art in 2020 – 2021 is a real thing. Isn't it impressive how street art can become an effective part of society? Let's see what Banksy will create in 2022!