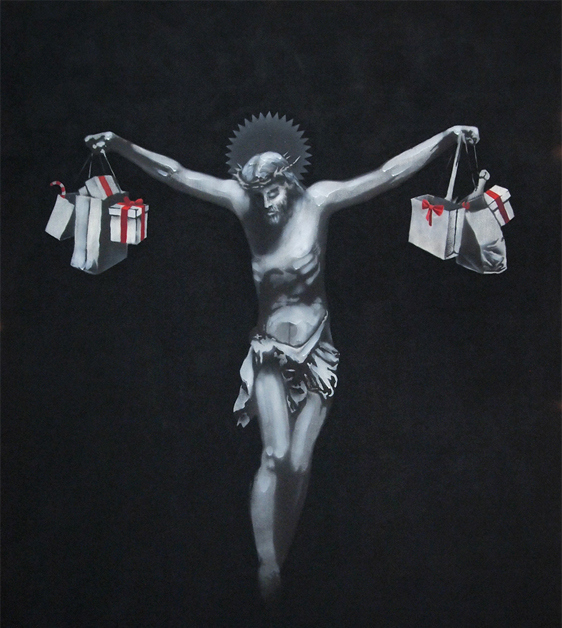 Traditionally, Christmas is associated with snow and ice, the birth of Jesus, love, care, and community. But not for Banksy. Even one of the most sacred festivals of the year cannot make the famous Bristol artist maintain public and creative silence. Every Christmas, Banksy art plays the role of the controversial yet integral symbol of the celebration. With time, Banksy Christmas art is becoming more and more relevant since it features hard truths that some people are still unwilling to swallow.
Why is Banksy Christmas far from being merry?
In Birmingham in December 2019, Banksy created a spectacular artwork dedicated to Christmas. It was a thought-provoking mural of two reindeer attached to reins. However, there were no Santa Claus and sleigh in that wall painting. Instead, reindeer were part of the real-life street bench with a homeless man Ryan as the missing Father Christmas. It was indeed a strong social message and commentary on homelessness.
Another mural of the Banksy Christmas art series was created much earlier than the first one. Banksy's controversial image of Christ with shopping bags, or "Consumer Jesus," or CWSB, became available for the public in 2004. It was a limited edition of 82 signed Banksy prints that were the combination of two powerful forces: religion and consumerism.
Jesus Christ, the symbol of purity, holds gift bags while being crucified, though Banksy removed the structure of the cross. The idea of the artwork is rather ambiguous because the street artist apparently wanted to leave the audience baffled by the strong satire. Through that piece of street art, Banksy wanted to draw the public's attention to the modern Americanization and commercialism of the Christmas festival.
As you now see, Banksy Christmas is not merry but rather poignant and perplexing. Banksy doesn't lose a moment to show the bitter reality of this world. You might not like it, but it is part of what Christmas is nowadays.