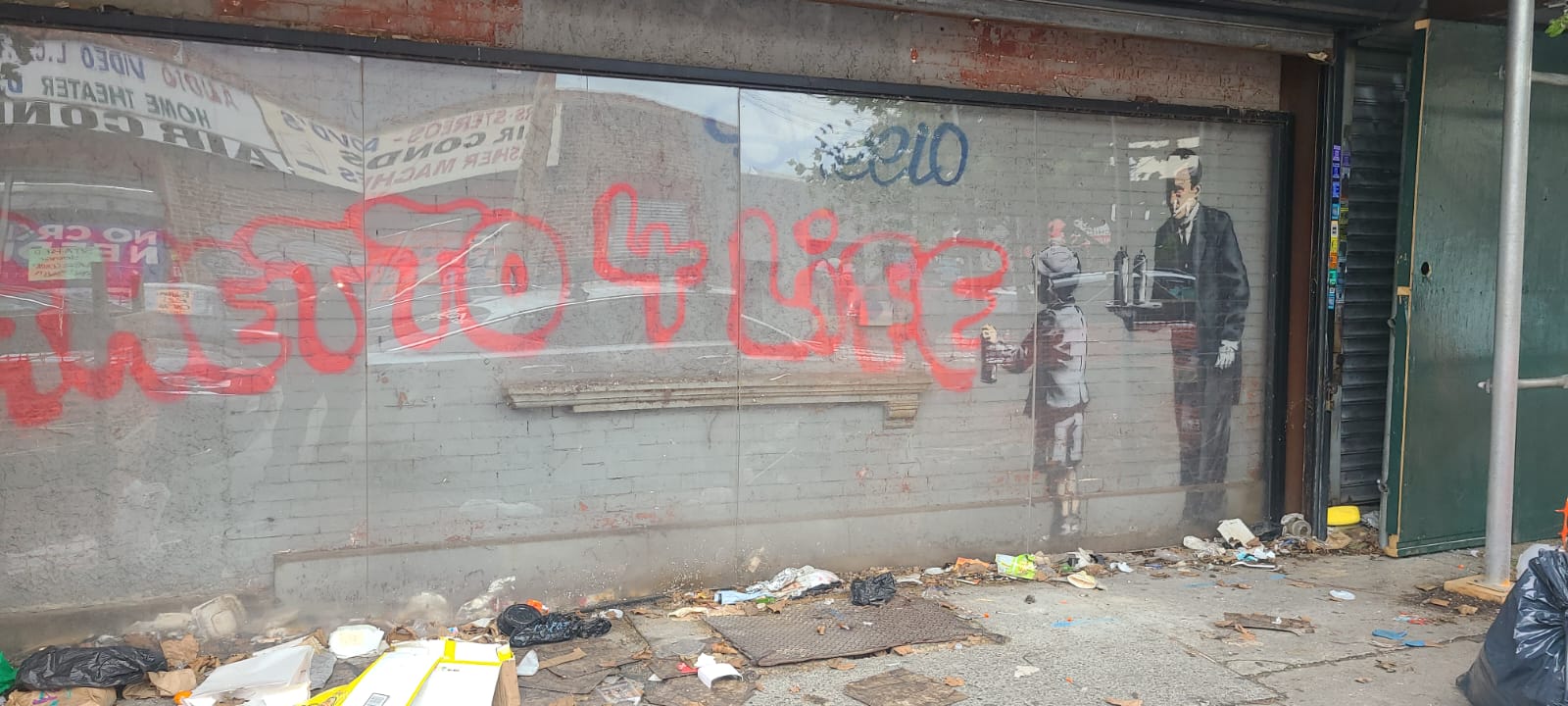 Ten years ago, a new Banksy mural appeared on one of the buildings in the Bronx, NY, as part of the artist's month-long outdoor show. It depicted a boy painting the words "Ghetto 4 Life" on the wall while being served spray paint cans by a butler. The controversial piece drew a lot of mixed reactions from the public, including the members of the local community. In August 2023, it was announced that the owner of the building was planning on demolishing the building to make way for a new charter school, meaning that the mural would be removed.
Bronx building with a Banksy mural to be demolished
In 2013, Banksy returned to the world of street art with a large-scale outdoor show. At least, one new mural by the legendary artist appeared on the New York walls every day for an entire month. Among them was the infamous graffiti piece known as Ghetto 4 Life, which drew massive attention from the public as soon as it was discovered at 651 Elton Avenue. Thousands of Banksy admirers flooded the streets of South Bronx, eager to see the new mural by one of the most anticipated contemporary artists in the world.
The reactions to the new Banksy mural were mixed, to say the least. Some expressed their dissatisfaction with Banksy using the word "ghetto" (while the identity of the street artist is not known, he was once described in an interview as a white man). Others either said that the piece was meant to be taken ironically, just like other political Banksy pieces, or that the British artist was simply not aware of the word's cultural context.
The owner of the building that became home to the Banksy mural built a gate around the piece and hid it behind plexiglass to protect it from vandalism. Some of the borough's residents pointed out that the Bronx had plenty of works by local street artists, which were never treated with the same reverence and respect. The infamous graffiti was covered from the public eye by layers of scaffolding while the building was under renovation but was recently unveiled again.
The Bronx building is now up for demolition, and a charter school is to be built in its place. The owner of the building is currently working with gallerists to figure out how to move Ghetto 4 Life. Where will the mural end up is still unclear.