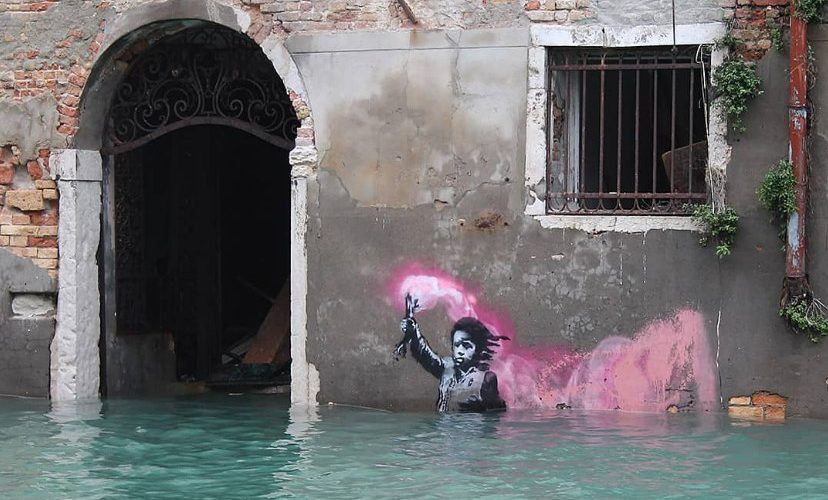 Every city has something to be proud of. Historical sights, gastronomical experiences, art museums, and galleries — there is always a thing or two that can be put on a travel brochure. Some points of pride are less salient than others because only locals and tourists with specific interests know about them. The 2019 Banksy mural in Venice is undeniably a cult destination for fans of the mysterious street artist. It was only a matter of time until the Culture Ministry of Italy decided to take the preservation and protection of one of the two Italian Banksy street art pieces under control.
Banksy mural in Venice to be restored with the help of a local bank
Madonna with a Pistol, which appeared in Naples in 2004, was the first gift to Italy from the world-renowned street artist Banksy. The second one, The Migrant Child, appeared in 2019 in Venice and immediately became a major point of discussion even before its creator claimed it. The mural depicts a child wearing a safety vest and holding a pink warning torch. The Migrant Child was spotted by locals right before the start of the Venice Biennale festival.
The Migrant Child was painted on the wall of a building located really close to water. As Venice regularly experiences something called 'aqua alta' ('high water' in Italian), it is not surprising that the Banksy mural weathered after being constantly exposed to water and wind. The condition of the graffiti piece did not go past the local government: Italy's undersecretary for culture, Vittorio Sgarbi, decided that he must restore the mural and protect it from further deterioration.
Sgarbi stated that he found out about the state of the mural from the mayor of Venice, Luigi Brugnaro, and the president of the Venetian Region, Luca Zaia. However, according to Italian cultural heritage protection legislation, a piece should be over 70 years old and created by a non-living artist to be eligible for restoration.
Sgarbi said he is working with a local bank, Banca Ifis, to fund the restoration of the Banksy mural. He added that since the piece is technically illegal, he will not be asking the artist for permission to restore his artwork. Notably, the owners of the palazzo, where the mural was painted in 2019, claim that they contacted Banksy about the restoration of his work a month after it appeared and received no response.