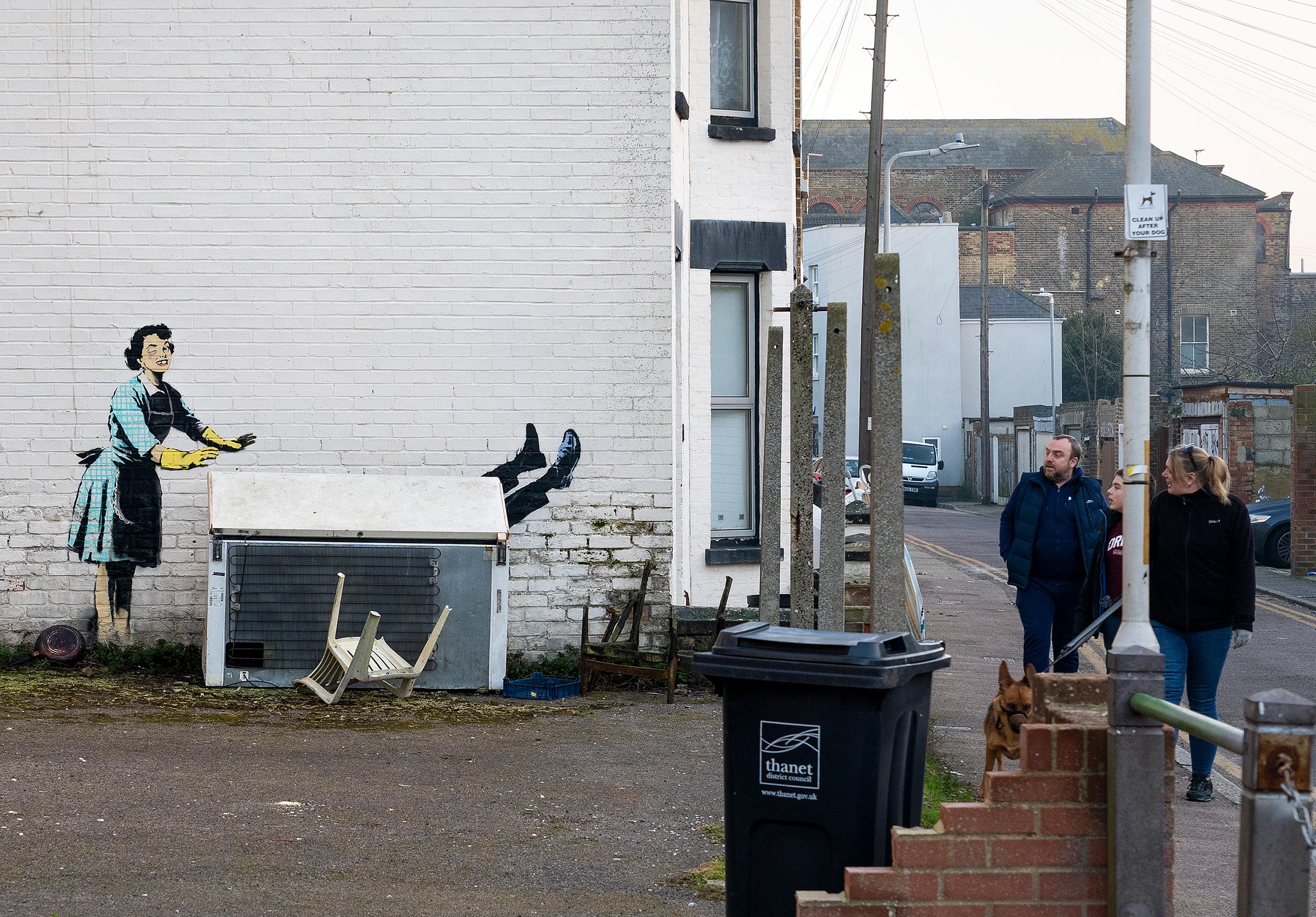 There is no need for introductions when it comes to Banksy, the avowed king of street art. It seems that the elusive artist has once again decided to grace the streets with his artwork. This month, just in time for Valentine's Day, Banksy created his new piece to raise awareness for victims of domestic violence. The new stencil Banksy art can be seen in Margate, Kent. It is the first artwork the artist has made in the United Kingdom in a long time.
Valentine's Day Mascara: New Stencil Banksy Art in the UK
Stencil Banksy art is famous for its strong messages that clothe critique of today's society into creative art pieces. In the spirit of the globally celebrated Valentine's Day, the artist chose to use his talent to bring to the forefront the issue of domestic abuse.
The new piece is titled "Valentine's Day Mascara," a morbidly ironic name considering the story that the artwork is telling. The mural depicts a housewife who is wearing typical American 1950s-style clothing. She has an apron and cleaning gloves on, which makes her look even more like the female characters one can spot in old-timey sitcoms. The woman is smiling while pushing her husband into a discarded freezer. After closer inspection, one can notice that the housewife has a black eye and is missing a tooth. She was abused by her spouse, but won — so, while the mural is dark, it is also triumphant.
Banksy has always been good at mixing serious subjects with seemingly lighthearted imagery. One of his recent works in Ukraine depicts a gymnast performing among the ruins of the destroyed city of Borodianka, which is located near Kyiv.
This is not the first time stencil Banksy art appeared in Kent: the artist created a wall-sized graffiti in 2017 — a man standing on a ladder and chiseling a star from the EU flag – commenting on the Brexit negotiations between the UK and the European Union.
Did you know that the famous stencil art piece picturing a girl bursting a red balloon was also created to celebrate Valentine's Day in 2020? It can still be seen on the wall of a building in Bristol.
Banksy is unpredictable, and he has proven this many times over the years of his vibrant career as a street artist. "Valentine's Day Mascara" is a piece that captures the essence of Banksy's art pretty well: sharp and to the point, accessible to the public but deep at the same time.