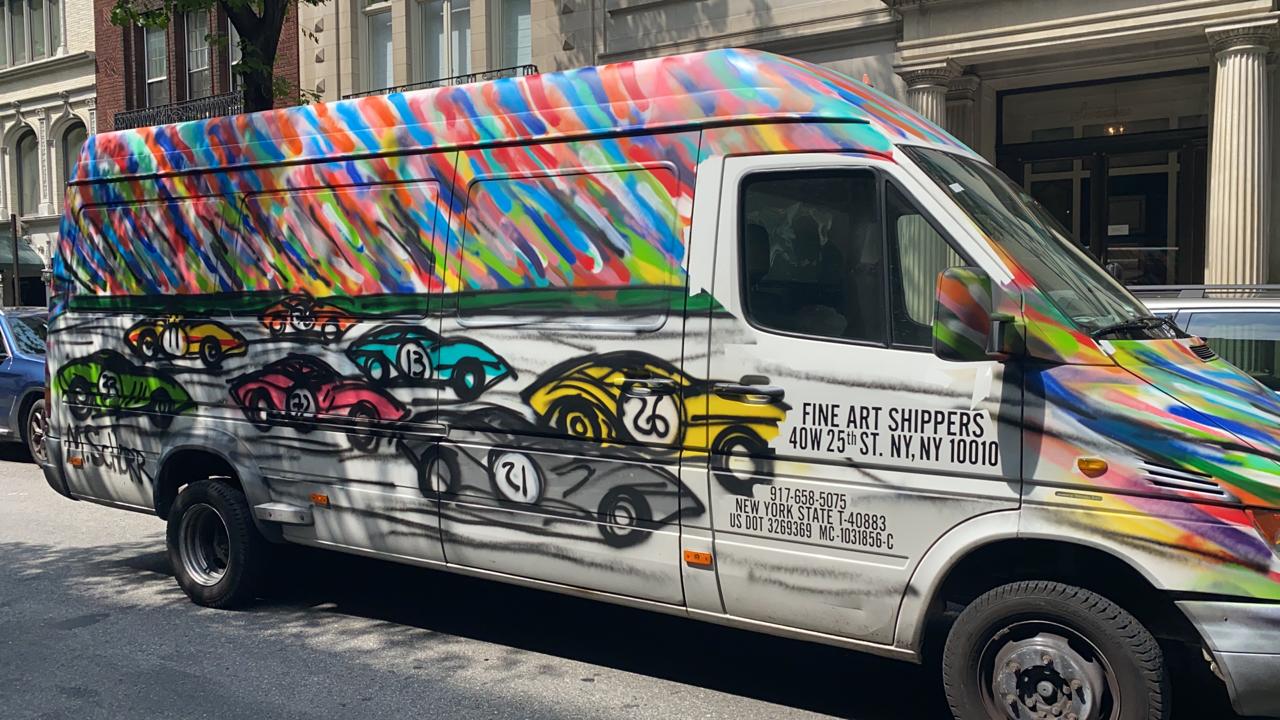 Even though street art is believed to be a fairly secluded part of the art industry, there are cases when artists go public and start collaborating with official companies. That is what has recently happened in New York City, where the art logistics company Fine Art Shippers teamed up with Mitchell Schorr, a talented urban mural painter. Together, they have launched an exciting art project titled "Da Race on Wheels," which features Schorr's iconic painting placed on the art shuttle van. Yes, you've read it right — the entire vehicle has been turned into a moving work of art!
Da Race on Wheels: when street art meets fine art logistics
The collaborative art project became a somewhat bridge between street art and official fine art. "Da Race" is Mitchell Schorr's iconic series of artworks depicting the car race that consists of racing cars and a typical ice cream truck. The main peculiarity is that the cars change their positions with each new work. You can find these murals all around Manhattan in New York, Burlington in Vermont, and many other locations. And now, you might well see the custom-decorated art shuttle van driving all around the US.
Fine Art Shippers is a fine art logistics company that has earned the name of a credible art shipping service provider. Moreover, the professional shippers were once accredited and entrusted with extracting and preserving a piece of wall with a black seal balancing a ball on its nose — that's how the famous Banksy mural in New York was saved in the nick of time. Collaboration with Mitchell Schorr will become another rewarding experience for the company, as you literally witness the formation of a closer bond between two inalienable parts of the same art world.
"Da Race on Wheels" is but a good example of how street art should be promoted to a wider audience. If you happen to see the van somewhere in the Big Apple or any other city in the US, don't be afraid to take a selfie with the vehicle and say hello to the team!