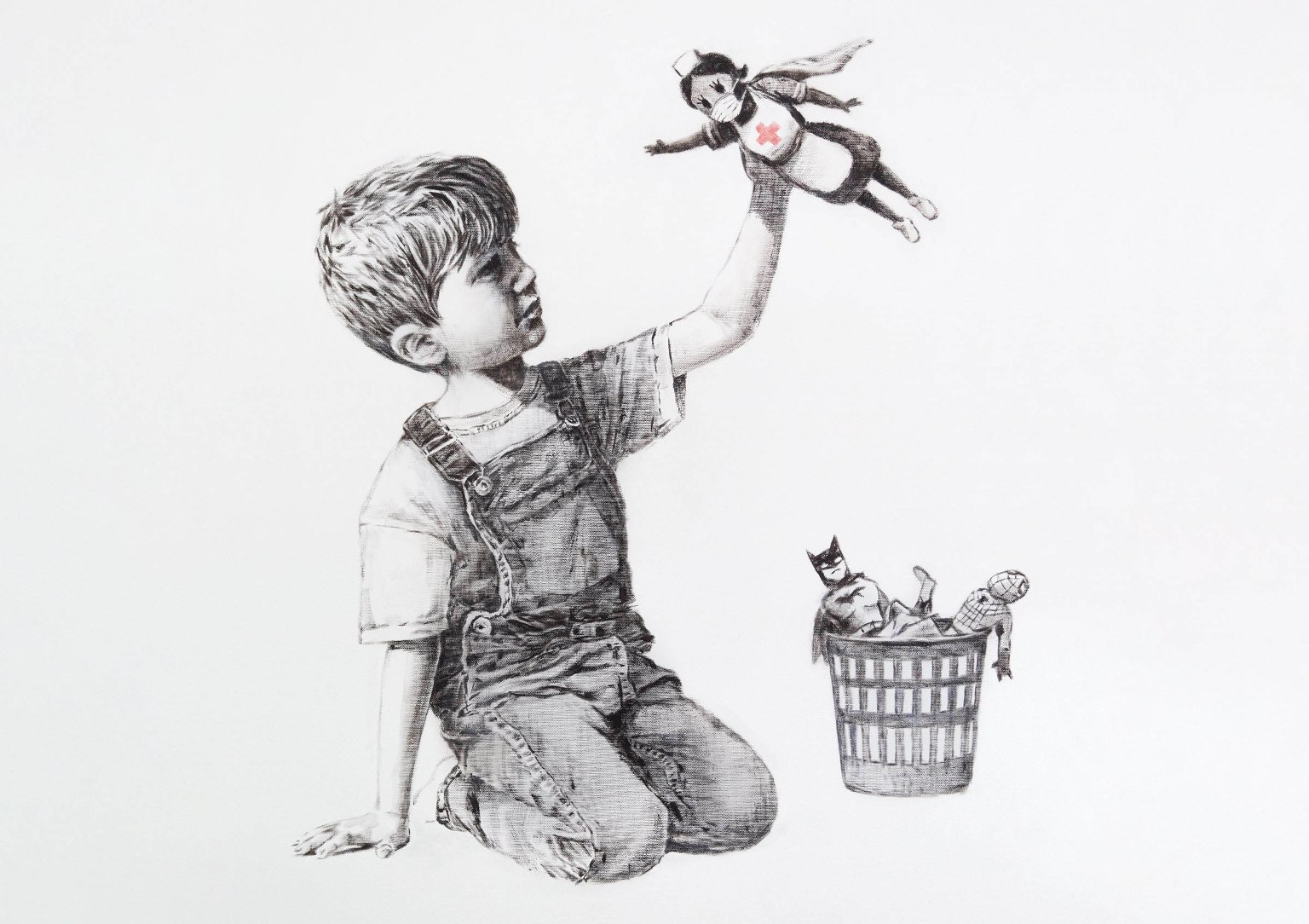 When Banksy started to gain recognition, quite a few people were skeptical about the growing success of the street artist. Now, when Banksy breaks auction records with each new artwork, more and more people become less hostile toward him and street art overall. Recently, on March 23, a new Banksy record was set, which was another important attitude shift. "Game Changer," a painting devoted to healthcare workers, officially became the most expensive Banksy piece, surpassing the previous record-breaker, "Devolved Parliament," by two times.
"Game Changer" – officially most expensive Banksy painting (so far)
"Game Changer" is a coronavirus-inspired artwork that Banksy created in spring 2020 as a response to the pandemic. The painting depicts a boy playing with a nurse doll while Batman and Spiderman dolls remain in the basket. The original work appeared at the University Hospital Southampton, along with a note from Banksy, saying how thankful he is for all the hard work that healthcare workers do. "Game Changer" was auctioned at Christie's 20th Century Art Evening Sale several weeks ago, but the reproduction of the painting is still at the University Hospital Southampton for everyone to enjoy.
Surprisingly, "Game Changer" became the most expensive Banksy painting in just 20 minutes. After the quick yet tiresome bidding duel, the artwork was sold for a mouth-watering £16,8m (approximately $23m) to a phone bidder. Proceeds from the art auction will be used to support health charities and organizations, as well as healthcare providers, all across the UK.
Though 2020 was a tough year, it also became a huge lesson for all of us. Many people still struggle to make ends meet, but there is always hope. The sale of the now most expensive Banksy artwork "Game Changer" was a symbolic moment, indicating the heightened awareness of the art community and its readiness to support the battle against COVID-19!