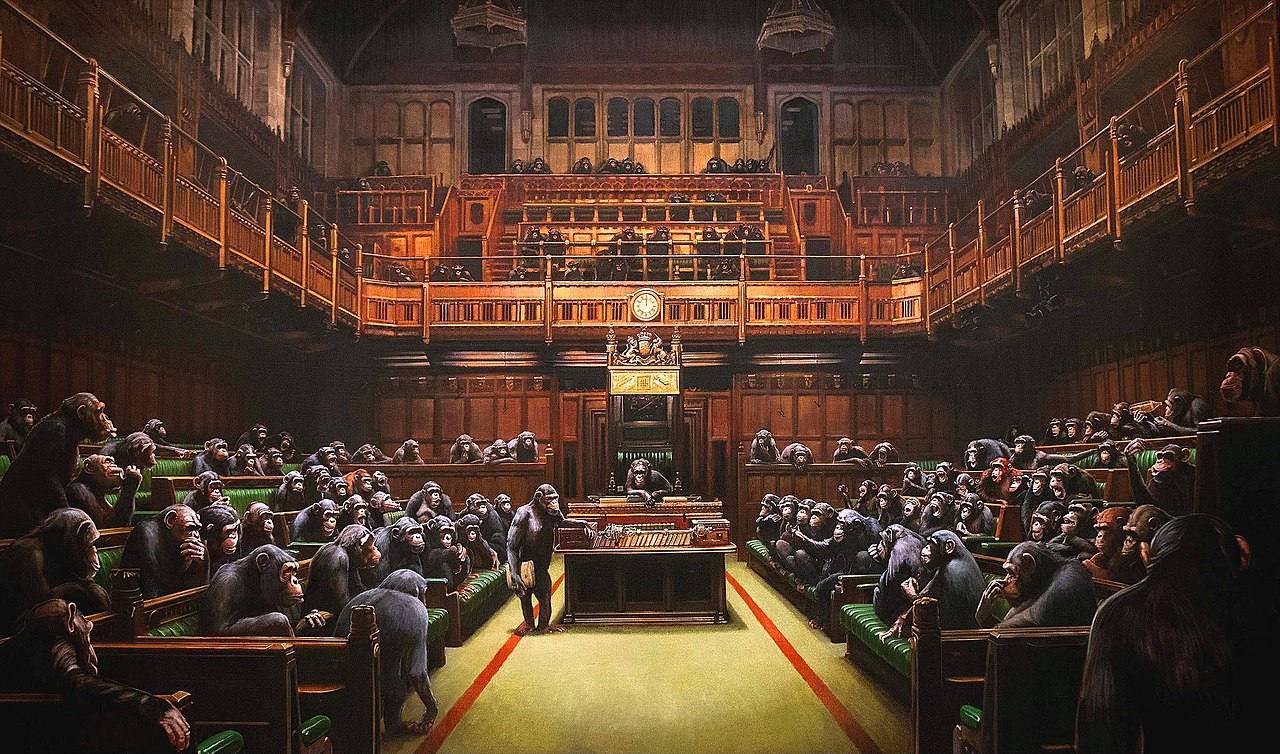 Every time people talk about Banksy, they usually imply a street artist who is widely known for his murals on walls. Not everyone, though, knows Banksy as a painter who once created paintings. The British anonymous shining star is renowned for his acridness and abrupt tricks, but when he painted a canvas in 2009, titled Devolved Parliament, the art world was seriously taken aback by such overwhelming news. What did inspire Banksy to push his limits, and how did his work become a world-famous painting?
Devolved Parliament — a world-famous painting by Banksy
Devolved Parliament is a satirical oil on canvas painting that depicts the House of Commons full of chimpanzees. By replacing British politicians with apes, Banksy once again shared his attitude toward the government and political system overall. Along with that, many would find this world-famous painting particularly pertinent, given the debates over Brexit, which were ripping the Сommons for a couple of years.
Devolved Parliament is considered to be the most famous painting by the street art genius. Surprisingly, Banksy's canvas gained popularity only after a while. Initially, it had another name, Question Time, and was shown at the Bristol Museum & Art Gallery. In 2011, it was purchased by a private collector. Renamed and reworked, the painting became a world success in 2019 when after a 13-minute bidding battle, it was sold for a staggering $12.2 million at Sotheby's auction in London.
That was a sensation as Devolved Parliament was added to the list of the most expensive Banksy's works, which is undoubtedly a big achievement. After the auction, Banksy commented on the situation himself, "Laugh now, but one day no-one will be in charge." That is how the world-famous painting by Banksy went down in the history of the contemporary world of art. Who knows, maybe the future will surprise us even more?
Photo credit: Wikimedia Commons User GattoCeliaco / CC BY-SA 4.0