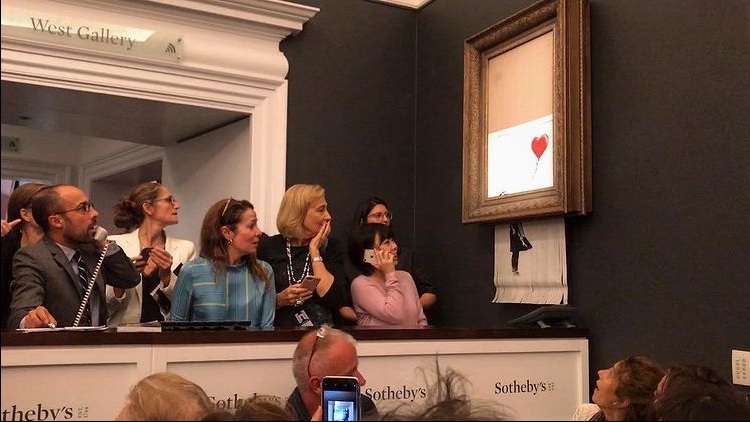 Just mentioning the name of this artist makes everyone wonder what else mind-boggling he has done or is up to. Banksy is more than just an artist. He has an incredible talent to wow, fascinate, and delight. On October 5, 2018, something unbelievable happened, as Banksy's original artwork "Girl with Balloon" got self-shredded right after being sold at an auction for £1,042,000. The resulting artwork was later renamed "Love Is in the Bin."
Why was "Girl with Balloon" renamed "Love Is in the Bin"?
"Girl with Balloon," or "Balloon Girl," is considered one of Banksy's most desired and known art pieces. The painting portrays a girl standing in the wind and trying to grasp a red balloon in the shape of a heart, which is slipping away. The red balloon should be construed here as a symbol of hope, aspirations, innocence, and pureness.
In 2018, this art piece turned into one of the most epochal works after its unexpected self-destruction right during Sotheby's London auction. This art intervention was claimed to be an art stunt. Banksy posted the entire process of shredding on his Instagram page, saying that he himself hid a shredding device inside the frame. He also added that 'craving for destruction is also a creative craving.' After the sale, the half-shredded piece was renamed 'Love Is in the Bin' by Banksy's representatives. For today, it is the only painting in art history ever created live during an auction. The artwork was on public display in Germany with the permission of its new owner, a European female art collector.
It is interesting that after being shredded, 'Love Is in the Bin' is worth much more than the original piece, possibly nearly £2m or even more. Banksy is for sure the artist who knows how to shock the public in a good way. Who knows what else he has in store for his fans!