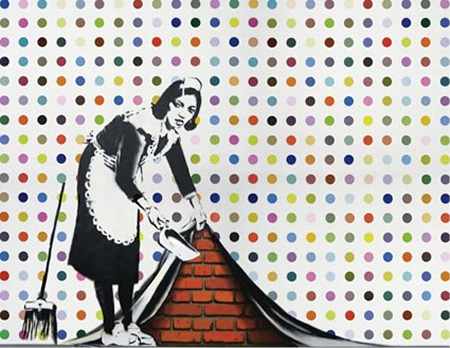 Though someone would say that Banksy artworks are priceless and cannot have a monetary value, you should not think of them as something abstract and non-existent. In reality, many artworks by the famous British graffiti artist have been sold at different auctions, so it will be inaccurate to think of his creations as something having only cultural value.
We do not try to deny the significant importance of such a phenomenon as Banksy for modern-day society; yet, we want to talk about how valued Banksy is on the art market. For these reasons, we have compiled a list featuring the five most expensive Banksy artworks ever sold at auctions.
5 most expensive Banksy artworks ever sold at auctions
5. Love Is in the Bin – $1.3 million
Love Is in the Bin is that renowned painting that began to self destruct at Sotheby's auction at the very moment it was sold. Today, experts say, its price is much higher.
4. Keep It Spotless – $1.7 million
Keep It Spotless (pictured) features a maid who pulls up Damien Hirst's (another prominent British artist) painting to sweep under it. In 2008, it was sold at Sotheby's New York and proclaimed the most expensive Banksy artwork until Monkey Poison did not come out.
3. Monkey Poison – $2 million
Monkey Poison is an extravagant combination of painting and street art. Banksy united both techniques to reveal the satire masterfully interwoven with a monkey, one more frequently encountered image in Banksy artworks.
2. Mediterranean Sea View – $2.9 million
This work is devoted to the European migrant crisis and its issues. The aim was to raise money for buying children's rehabilitation equipment for the hospital in Bethlehem.
1. Devolved Parliament – $12.1 million
Devolved Parliament, by far the most recognizable Banksy's painting, is the most expensive work by the elusive artist as of today. This artwork is intended to criticize the parliament and its members.
Banksy avoids publicity, and yet his works are so well-priced that it is hard to imagine what their cost would be if Banksy was not anonymous.