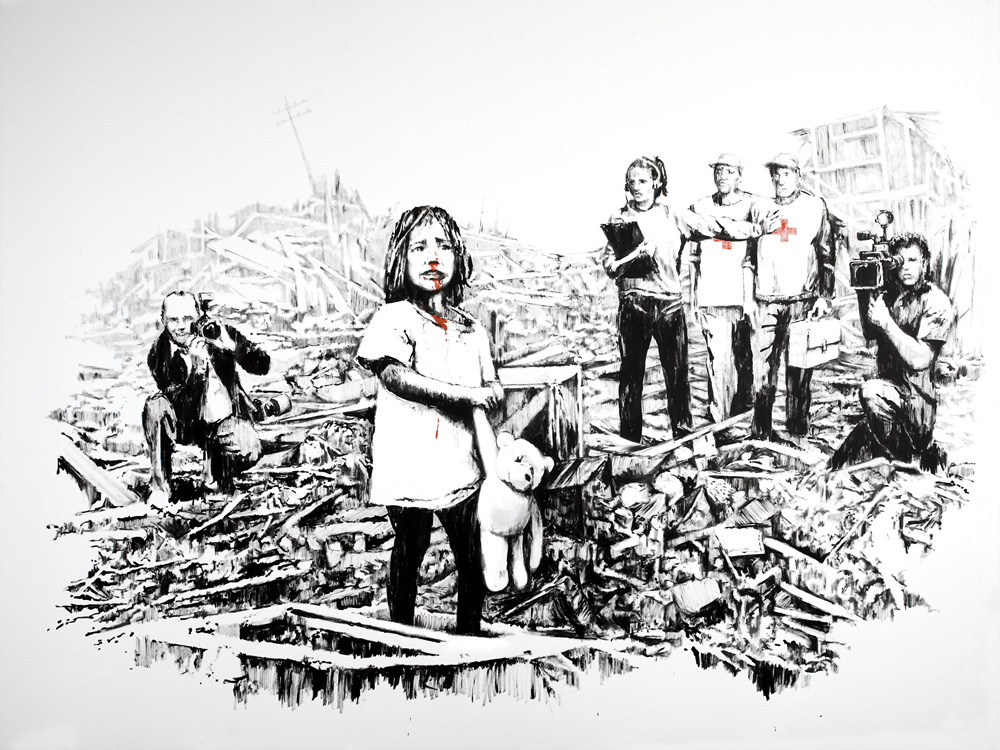 On February 24, Russian Federation invaded Ukraine and started a full-scale war in Europe. Thousands of lives have already perished. While Ukrainians are bravely defending their freedom against occupants, the world is watching the massacre and trying to help the situation. Many artists have already supported Ukraine and donated their revenue to help people who suffered from the conflict. And what about Banksy? There were no news about the artist lately. Recently, however, it has become known that one anonymous donor put Banksy original art for sale to raise money for Kyiv hospital and refugees.
An anonymous donor to put Banksy original art for sale to help Ukraine
The auction will take place on the website MyArtBroker. An anonymous donor decided to donate the 2005 Banksy work titled "CND Soldiers." The bidding will start at £20,000 and will be sold during a silent auction. Only a few people remember this particular artwork. What is important is that it was created shortly after the outbreak of the Iraq War and then was recreated long afterward. Apart from that, the organization also plans to sell some NFTs, with all the funds going into a special cryptocurrency wallet created by the Ukrainian government.
Rarely can you find Banksy original art for sale. Not only is it an opportunity to acquire a rare piece of street art but also to help children. Talking about children, all the money raised will also go to "Okhmatdyt," the Children's National Hospital in Kyiv. Given the popularity of Banksy's murals at auctions, "CND Soldiers" has all the chances to generate quite a big sum. Banksy has always been known for his personal war against idiocrasy, as his art is a weapon itself. With years, his artworks become symbols of hope and support. Believe it or not, it proves that Banksy's art does change people and make them kinder.