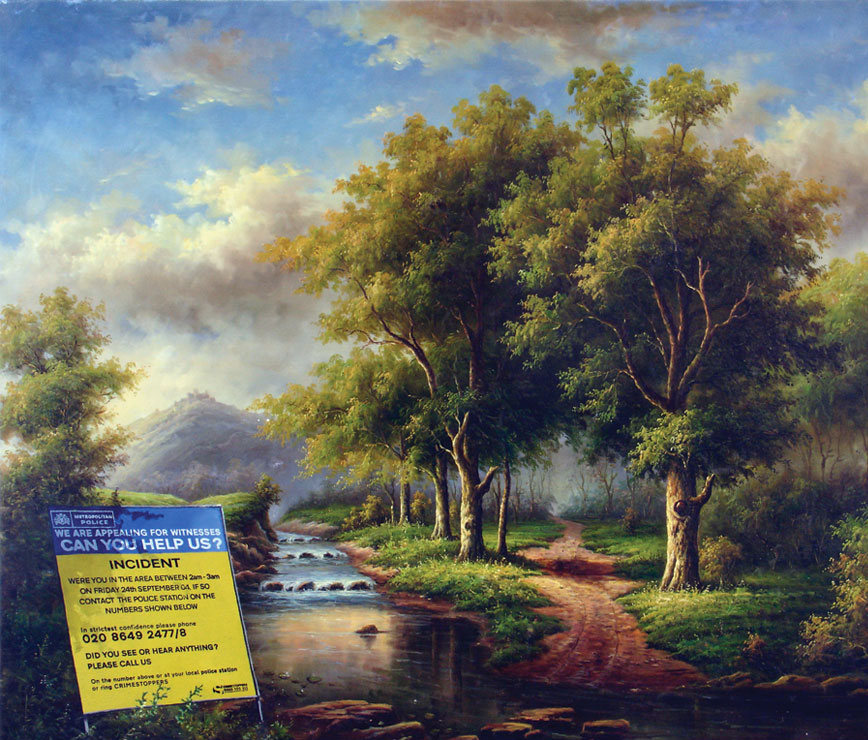 As time goes by, many people start forgetting about masterpieces that once made history. Among such influential artworks, Banksy's "Show Me the Monet" and "Crude Oils" series hold a special place. Given the monstrous problem of consumerism in the art market and the world overall, Banksy paintings are now as relevant as never before. Let's jump in the past and revive the memory of the amazing artworks.
Banksy's "Show Me the Monet" and "Crude Oils" on consumerism
Banksy painted "Show Me the Monet" and "Crude Oils" series back in 2005. The oil-on-canvas paintings were a clever parody that impressed many people with their controversy and boldness. For example, one painting imitated Claude Monet's artwork "Water Lilies and the Japanese Bridge." The street artist added some worth-noting objects to the setting of the painting. On closer inspection, you can see an abandoned traffic cone and shopping carts. Such a combination of classical art and parody exerted a far-reaching effect on critics. However, some ordinary people didn't get the mocking message that the mural painter addressed to art collectors and buyers.
What is the magic behind those paintings? The artworks are about the flawed standards of today's art market, as well as people's inability to progress in balance with nature. Of course, the issue of environmental pollution is evident here. People are swimming in their unsustainability. As a result, even the most sacred places suffer from pollution. One more integral mission of the paintings was to reveal the inflamed materialism and commercialism of the contemporary market. Banksy emphasized that art was gradually becoming a common commodity void of meaning and purpose, even the most primitive and basic one.
In 2020, "Show Me the Monet" was successfully sold for $10 million. Other works of the series were purchased as well. Even nowadays, these pieces are conceptually important for understanding the hypocrisy piercing the industry. And the problem is getting more and more complex with each day.