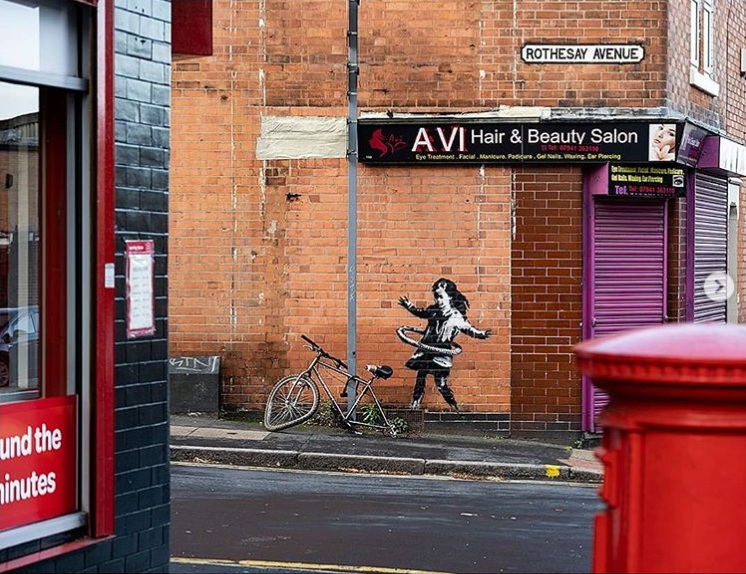 Even the coronavirus pandemic does not stop the elusive British street artist from creating his art. In mid-October, new artwork by Banksy appeared on one of the streets of Nottingham. A 'hula-hooping girl,' a self-evident name given to the artwork by the media, is painted outside a beauty salon located on the junction of Ilkeston Road and Rothesay Avenue in Lenton. The work had not been claimed for several days, but then, on October 17, Banksy confirmed it was his by posting a photo on his Instagram.
Nottingham's Hula-Hooping Girl — New Artwork by Banksy
The new artwork was not painted alone. Next to the wall painting, there is a bicycle leaning toward a pole. The bicycle misses its back wheel that probably was put to good use by the girl hula hooping with a bicycle tire. When the news about Banksy's work spread, lots of people gathered to see and take a photo with it. Despite the restrictions, those curious about the painting formed a queue, waiting for their chances to look at the art installation.
However, like many of Banksy's artworks, a hula-hopping girl was sprayed with graffiti. Fortunately, it was successfully cleaned without damage to the street art itself. Many wonder what Banksy tried to say with his new artwork. Someone thinks it might be somehow connected to the past of the area since once it was an industrial hub for famous bicycle-maker Raleigh. But, in general, everyone makes their own minds up. It might well be another response to the COVID-19, meaning that Banksy shows us that people should take advantage of any situation, however difficult and weird it may seem. At the end of the day, the meaning of the work is open to interpretation.
Overall, Banky's fall release was warmly accepted by the public and the art community. By creating the 'hula-hooping girl,' the street artist slightly departs from his recent fervent political art.
Photo credit: Banksy Official Instagram Account / @banksy