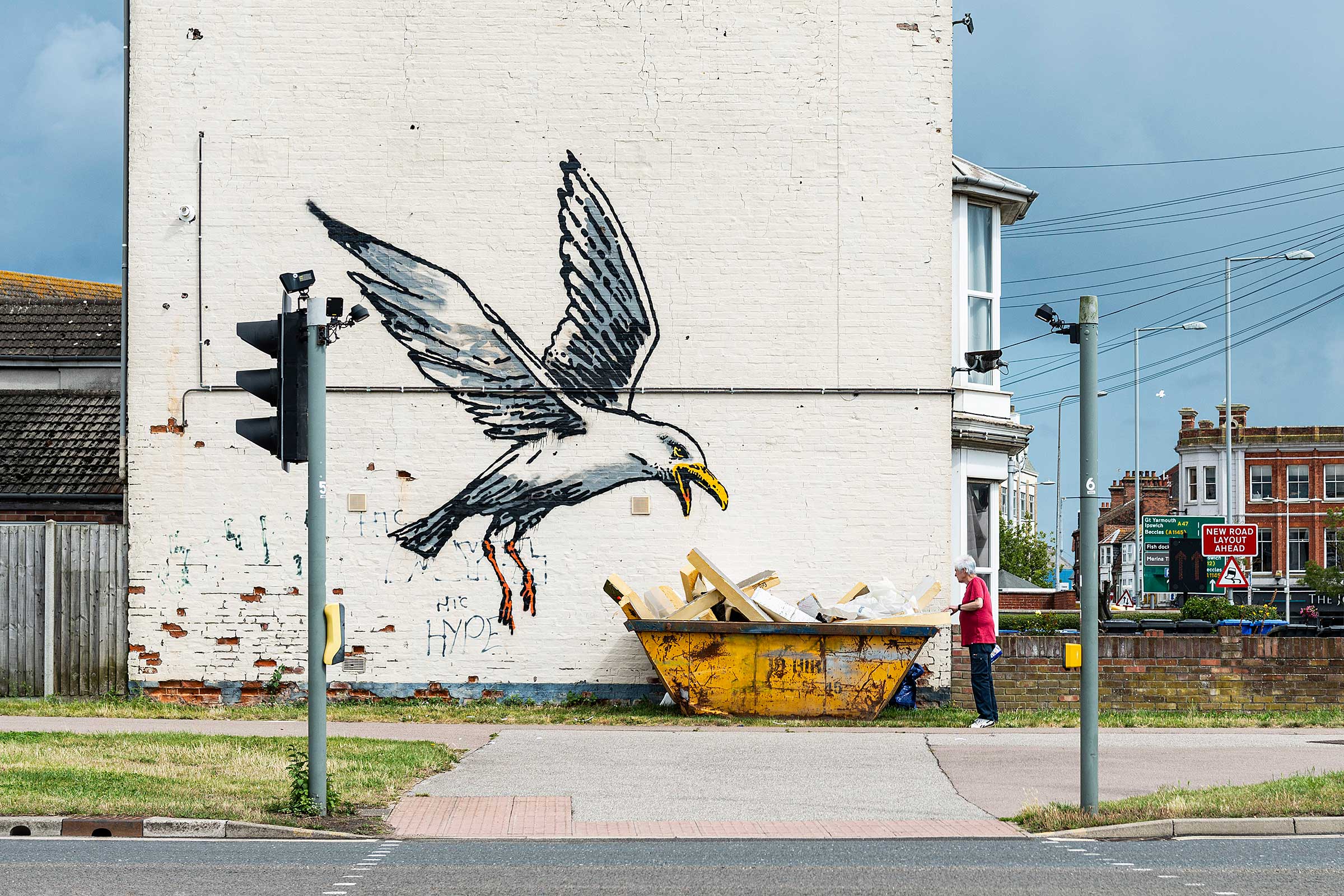 It is a fact that artwork by Banksy often gets damaged, removed, or destroyed. It happens so often that there is a separate page on Wikipedia, dedicated to listing all of those times. Banksy is a free artist, and this is why his works sometimes appear in places you do not expect them to see. One can imagine how thrilling it would be to find a piece by one of the most popular artists in the world, let alone spot it on the wall of the house you live in. Turns out, not everyone likes to be at the center of attention. A couple of landlords living in the UK paid a large sum to get rid of a Banksy mural that recently appeared on the wall of their home in Suffolk.
A couple pays to remove a Banksy mural from their house's wall
The topics Banksy's art deals with are quite diverse. On the one hand, the street artist is often drawn to highlighting political issues — for example, he went to war-torn Ukraine and left his paintings on scorched buildings. One of the recent graffiti he did in Kent was a hard-hitting critique of domestic violence and abuse. On the other hand, Banksy likes to mark regular unremarkable buildings, be they abandoned or inhabited by people. When a new painting of a seagull claimed by the legendary artist appeared on the wall of a privately owned house, it immediately became a new popular attraction. Garry and Gokean Coutts, a married couple who own the building, received the news from their tenants.
As exciting as this find might have seemed at first, the Coutts expressed their distress with the sudden change. The local council of the city informed them that they would have to personally take care of the artwork — a task that would cost them thousands of dollars a year.
The couple ended up paying a building firm for removing the Banksy mural from the wall to save themselves the hassle of preserving it. Now, they are hoping to sell the artwork to get some of that money back. Garry Coutts says that there already were attempts to steal and vandalize the mural and that the couple had to prevent them on their own.
Understandably, other people living in the town seem disappointed about the Banksy mural removal. Banksy, as usual, does not provide any commentary on the situation. One might point out that Banksy's fans take his artwork much more seriously than the artist himself. After all, that is the fate of most street art pieces, and Banksy is nothing but familiar with it.